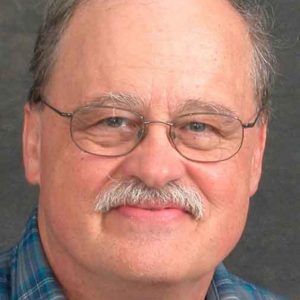 Pastor John Gosswein has served in ministry for 30 years, graduating from Concordia Seminary in Exile in 1976. That next year he served with a deaf congregation in St. Louis before accepting a call to a mission start in Harrah, Oklahoma. He and Judy met while she was teaching in Dallas Texas – they married in 1980.
They came to Kearney and Family of Christ in 1989. Life in Kearney offered a dual blessing:
the congregation was (and is) a lively and creative opportunity to share the love of our Lord; and
with their son Jim bearing significant handicaps, they were close to the ministry of Bethphage (now Mosaic) in Axtell. Indeed, 10 years later Family of Christ and Mosaic entered a contract to share Pastor John's ministry (he is there Thursdays and Sunday afternoons).
Area church-goers share carols, Christmas story to inmates at Buffalo County Jail
Judy has worked in teaching and assisting in classroom activities while being mom to Julia (now graduated from UNK and working at Baldwin Filters) and Joel (currently at UNL). She brings her teaching passion and skills together with Sunday programs for Family of Christ (Sunday school and Children's Church).
You will find that John loves to talk movies (this developed after having a small radio program with Pr. Paul Coen) and books. His classical music training connects him with the local orchestra. Both John and Judy love singing together, hence their strong interest in the choral life of Family of Christ.
For any changes needed to be made on the website or ideas for things we may to do improve our communication, information, and outreach to the community please contact our Webmaster and the Evangelism Committee will consider all suggestions.