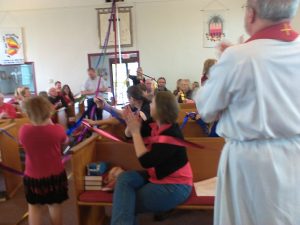 The congregation worshiped together for the first time in 1983, choosing the name Family of Christ as an expression of how God draws us together.  We come to know His forgiving love through Christ Jesus, grow in that nurturing love in worship, education and fellowship, and sow His compassion as we reach out to the world.
Whether young or old, single or married – we realize that the Spirit helps us grow in awareness of our connection as brothers and sisters in Christ Jesus. At each worship we gather around the communion table: our stories and struggles may be different, but we are united through the redeeming love of Jesus Christ in His Body and Blood.
We welcome any to share with us in worship (a variety of weekend services), Bible studies (from Sunday classes to intensive Crossways), fellowship (Inquirer's Sessions, Comfort Care, Hole-In-The Roof, Lenten suppers), outreach (Jubilee, Mosaic, Habitat for Humanity).  There is a myriad of opportunity to explore our joyous relationship as Family of Christ!
Sunday Disciples meet Sundays at 9:15 a.m. online and in person. The lessons, activities and crafts help disciples of all ages in understanding Jesus love for them.
Intrim Pastor: Carl Sirotzki
Worship: Sunday 10:00 AM in person and Live on Facebook and Youtube. Saturday 6:00 p.m. ASL interpreted worship in person and Live on Facebook and Youtube. Links to this and last week's services can be found on our homepage.